The 18th edition of the Dubai Airshow, scheduled from November 13 to 17, is poised to elevate the aerospace, space, and defense industries to new heights. This year's event is not just a showcase; it's a transformative platform that focuses on talent development, innovation, and international collaboration.
Central to the event is the NextGen Leaders program, designed to inspire and empower future aerospace professionals. The program offers a comprehensive array of strategic content sessions, providing a unique opportunity for students, graduates, and young professionals to delve into the intricacies of the industry.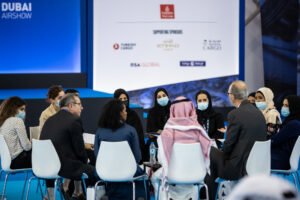 Distinguished leaders will share invaluable insights into aerospace career trajectories, emphasizing crucial skills, qualifications, and emerging job avenues. Mentorship sessions will unravel recruitment blueprints, offering unparalleled insights into sought-after job profiles and the essential skills required in the age of advancing artificial intelligence.
H.E. Ibrahim Al Qasim, Deputy Director General of the UAE Space Agency, emphasized the significance of NextGen: "It's a powerful platform for preparing the future leaders of the aviation industry, opening new opportunities for talented students to develop careers in the aerospace sector."
Students participating in NextGen will have exclusive access to private tours of the Dubai Airshow, gaining insights into the future plans of leading aerospace, space, and defense companies. More than just a program, NextGen Leaders serves as a guide for the ambitious and the talented, paving the way for a high-caliber workforce that will shape the future of these industries.
Alongside NextGen, Dubai Airshow 2023 introduces the "Make it in the Emirates" campaign, a dedicated platform for international companies to explore the advantages of manufacturing in the UAE. Through strategic CXO meetings, the initiative facilitates interactions between international entities and UAE manufacturers, providing advice and guidance on establishing a manufacturing presence in the country.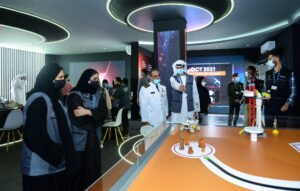 This campaign aligns with the UAE's vision to foster Emiratisation, bridging the gap between young talent and industry leaders. His Excellency Omar Al Suwaidi, Undersecretary of the Ministry of Industry and Advanced Technology, highlighted the commitment: "'Make it in the Emirates' aims to strengthen the UAE's position in vital and advanced industries, nurturing and empowering local talent through various programs."
The Airshow's CXO Delegation programme aims to facilitate the advancement of the "Make it in the Emirates" campaign. This invitation-only networking event connects the UAE industrial ecosystem with international companies, fostering business opportunities and contributing to the growth of the UAE and its advanced technology strategy.
Dubai Airshow 2023 promises to be a transformative event that fosters innovation and collaboration, shaping the future of aerospace and defense. Held at Dubai World Central (DWC), it is set to be a gateway for emerging talent, a hub for industry leaders, and a catalyst for the development of these dynamic industries. Don't miss the chance to witness history in the making!
Visit the Website for more details.