Global in outlook, bilingual in approach, Swiss in culture, and yet firmly rooted in the local community of Dubai – that's Swiss International School in Dubai or SISD. It is Dubai's first bilingual International Baccalaureate School, opened in 2015. The school is a leading international day and boarding school where future generations are inspired to become confident and enthusiastic lifelong learners, properly prepared to embrace all the opportunities and challenges life presents.
SISD staff believes in maintaining high standards and aspire to be the best they can be. A spirit of enquiry, encouraging both creative and critical thinking is fostered. With a focus on cultivating knowledge and a habit of learning, the faculty wishes to inculcate the habit of reading in all children.
Here are some simple tips to get your children to read:
Top tips for getting your children to read
Choose books at the right reading level – having a child read something too difficult for them could discourage them from the activity, a good way to find out their level if you are not sure is by having them read to you from different books and asking them questions to see if they understand
Choose books in line with their interests – this will show them that reading is another fun way to connect with what they like
Take turns reading to each other – this will make the activity more interactive and less tiresome for them as they become stronger readers
Make reading into a treat – take outings to the library or the bookstore and give them books as presents or rewards
Be patient as they become familiar with the activity – taking the time choosing the right book and getting comfortable will allow reading to become enjoyable for them and give them the freedom to discover it at their own pace
Choose a series of books – having continuity in the characters and the universe will make it easier for them to understand and be invested in a series will make them want to read more
Discuss what they have read – having a conversation with them about the book can allow you to make sure they understand what they are reading about and have them engage with the story further
Create a reading zone – choose a corner in the house or in their room for them to decorate with pillows, blankets or posters to designate as a reading corner this will get them excited about using the space and reading.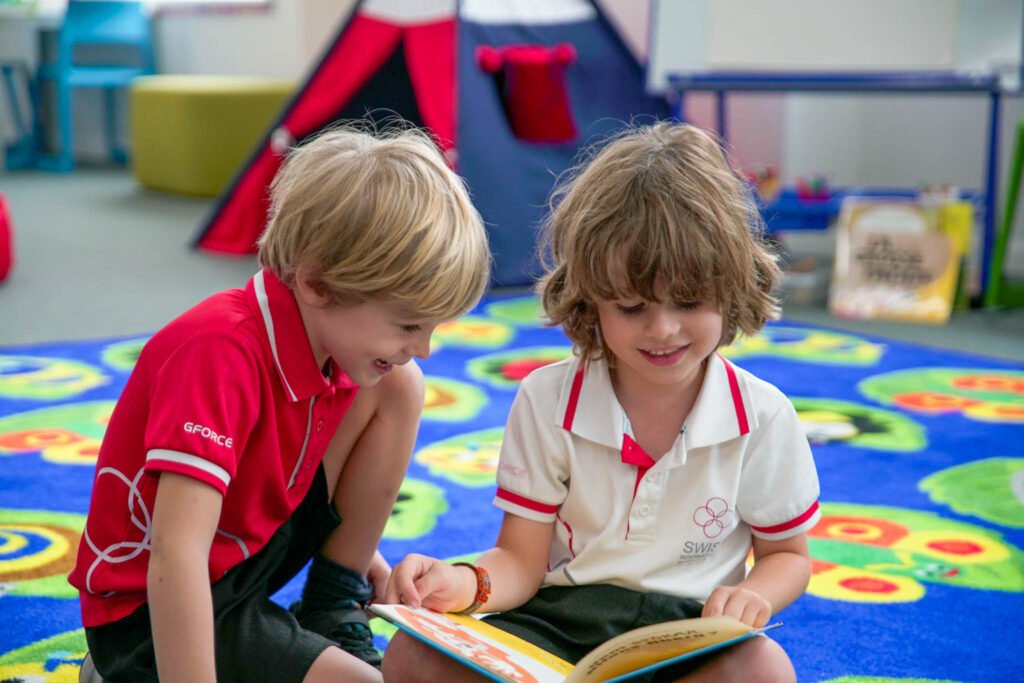 If you are looking to cultivate more knowledge and skill-based habits in your children, look no further than Swiss International School in Dubai. SISD stands out as one of only a handful of educational establishments globally classified as an IB Continuum school, which means it offers International Baccalaureate education to pupils from age 3 to 18.
Offering day school, weekly or full-term boarding options, this leading educational institution offers state-of-the-art STEAM education and has world-class sporting facilities, too.
The school has laid out its B.E.S.T. Values, as follows:
A unique international and multilingual environment provides students with an authentic exposure to English, French, German and Arabic. Students in the immersive bilingual programmes learn to communicate, think and reflect in two different languages. As global citizens, SISD celebrates diversity, promoting all languages and cultures with equal respect.
SISD staff believes in maintaining high standards and aspire to be the best they can be. A spirit of enquiry, encouraging both creative and critical thinking is fostered.
Students and staff believe that social, cultural, economic and environmental awareness prepare us to play our part in shaping a better future, both for ourselves and for those around us. The school campus is eco-friendly, winning international acclaim and awards for using less energy to create a comfortable and healthy environment.
In the school's international community, we know that we are at our best when we all work together. We view active participation in the community, from the most local to the most global, as the foundation of a valuable life.