The countdown to the most enchanting night of the year has begun, and Jun's, the prestigious Michelin-awarded gem nestled in Downtown Dubai, unveils a mesmerizing extravaganza to bid adieu to 2023 and welcome the promising dawn of 2024.
As the vibrant city of Dubai prepares for a crescendo of festivities, Jun's stands tall, offering an unrivaled vantage point to witness the resplendent Burj Khalifa fireworks. Led by the visionary Chef Kelvin Cheung, Jun's promises an evening steeped in culinary sophistication and elevated ambiance that transcends mere dining.
Step into this culinary oasis and embark on a tantalizing odyssey curated by Chef Cheung's adept hands, fusing diverse flavors from global travels with a contemporary twist. Diners are presented with a choice between the vegetarian and non-vegetarian menu, both an embodiment of Chef Cheung's culinary mastery and globe-trotting experiences.
The vegetarian menu unveils a symphony of flavors, from the iconic Heirloom Carrots to the delectable Sweet Potato Gnocchi and Thai Green Vegetable Curry. Meanwhile, the non-vegetarian counterpart astonishes with creations like the Salmon Carpaccio and Miso Toothfish, culminating in a dessert platter featuring divine indulgences to conclude the epicurean journey.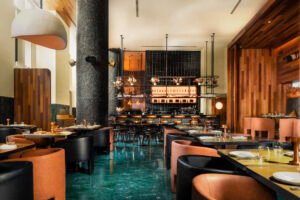 At Jun's, it's not merely about dining; it's an immersive experience. Against the backdrop of the majestic Burj Khalifa and the city's sparkling skyline, indulge in handcrafted cocktails, groove to infectious beats spun by a DJ, and relish an atmosphere brimming with anticipation and jubilation.
Don't miss this unrivaled soirée! Join Jun's on the night of December 31st for a celebration that transcends boundaries. Packages start at AED 700+, promising an unparalleled evening that etches cherished memories.
Reserve your place at this epicurean spectacle by calling +971 (04) 457 6035 or via WhatsApp at +971 509389099.
Visit the Website for more details.