Day-by-Day Highlights Await at the Conclusion of this Comprehensive Overview!
The highly anticipated Dubai Airshow 2023 is set to take flight, promising yet another spectacular showcase of cutting-edge aviation technology, groundbreaking innovations, and strategic alliances within the aerospace industry. Renowned as one of the world's foremost aerospace events, this year's exhibition is poised to elevate the standards of excellence with a dynamic lineup of industry leaders, innovators, and aviation enthusiasts converging in Dubai. Against the backdrop of the bustling aviation hub, attendees can expect a riveting display of groundbreaking aircraft, disruptive technologies, and significant discussions shaping the future of global aviation.
The 18th edition of the Dubai Airshow 2023 took off with a grand royal tour led by His Highness Sheikh Ahmed Bin Saeed Al Maktoum, President of Dubai Civil Aviation Authority, Chairman of Dubai Airports, and Chief Executive of Emirates Airline and Group. The show opened its doors to a record-breaking number of exhibitors from over 95 countries, offering a glimpse into the future of aerospace, space, and defense industries.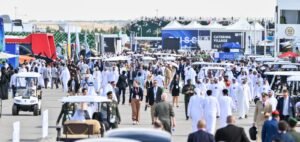 The inaugural day witnessed an array of monumental deals that set the tone for an eventful five-day affair. Among the highlights were significant commercial aviation orders, signifying a resurgence in air travel demand post-pandemic. Emirates stole the spotlight with a multi-billion dollar commitment, ordering 95 wide-body aircraft, including Boeing 777-9s, 777-8s, and 787s, while FlyDubai and SunExpress also announced substantial aircraft orders, contributing to the aviation industry's resurgence.
Moreover, airBaltic made a landmark commitment to become the largest Airbus A220 customer in Europe, solidifying its position with an additional order for 30 A220-300s. This unveiling marks a significant milestone in the airline's expansion and commitment to modernizing its fleet.
The aerospace extravaganza expanded its focus on space, with the UAE Space Agency showcasing its largest space pavilion in the exhibition's history. This spotlighted the country's dedication to strengthening its position in the space sector, notably featuring the first two Emirati astronauts, Sultan Al Neyadi and Hazza Al Mansouri.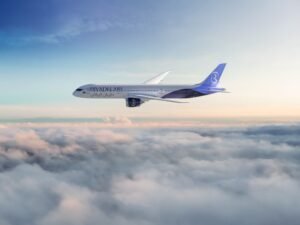 Among the distinguished visitors was His Highness Sheikh Khaled bin Mohamed bin Zayed Al Nahyan, Crown Prince of Abu Dhabi and Chairman of the Abu Dhabi Executive Council. His visit emphasized the significance of the event, highlighting its role in fostering innovation and propelling technological advancements in the aviation sector.
Day two continued the momentum, witnessing an avalanche of groundbreaking deals. EGYPTAIR's order for 10 Airbus A350-900s further underscored the airline's commitment to a more fuel-efficient and eco-friendly fleet, reducing emissions by 25%. Additionally, Oman Air, SCAT Airlines, and Ethiopian Airlines added to the spree with significant aircraft orders, signifying a resurgence in the aviation sector.
An agreement between Airbus and Mubadala Investment Company to mentor Emirati aerospace engineers through internship programs demonstrates a collective commitment to fostering local talent in the aviation industry, paving the way for innovative advancements.
Dubai Airports projected a soaring passenger traffic forecast for 2023, surpassing pre-pandemic levels, anticipating an influx of 86.8 million passengers at Dubai International Airport (DXB). This optimistic outlook reflects the resilience and rebound of the aviation industry, heralding a promising future for air travel.
The event showcased technological innovations in aviation, discussions on sustainable aviation fuels, and breakthroughs in aerospace technology. It also hosted insightful conferences exploring passenger experience transformation and sustainability initiatives, highlighting the industry's evolution toward a more environmentally conscious future.
Day two of the Dubai Airshow 2023 left a trail of success, setting new benchmarks in the aerospace industry. With its focus on localisation, groundbreaking deals, and innovative technologies, the event promises to redefine the future of aerospace and aviation, solidifying its position as a global platform for innovation and collaboration.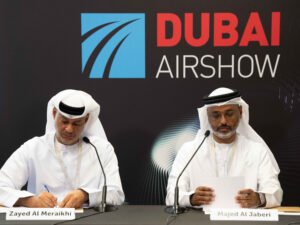 Meanwhile, VISTA, known for fostering innovation through collaboration between corporates and start-ups, will host distinguished figures like Kate Ganley, Director of Corporate Planning, initiating discussions on facilitating innovation through collaboration.
Excitement peaks as the daily flying displays boast the participation of world-renowned flying teams, including Frecce Tricolori, Fursan Al Emarat, Sarang, and August 1st, showcasing cutting-edge military aircraft, luxurious private planes, and esteemed commercial airliners.
Adding to the thrill, Riyadh Air, Saudi Arabia's new world-class airline, unveiled the second of its permanent dual-livery designs, symbolizing elegance, sophistication, and the nation's future-focused vision. This unveiling marks an exciting step toward Riyadh Air's ambition to become a pioneering carrier, set to connect the Kingdom's capital to over 100 destinations globally by 2030.
Moreover, the event isn't just about exhibits and displays; it's a hub for fostering youth leadership. Dubai Airports' Youth Council (DAYC) Chalet, a first-of-its-kind initiative, will be a beacon for aspiring aviation leaders, providing a space for young minds to connect, ideate, and be inspired.
Additionally, Tawazun Council announced several significant deals, totaling AED 4.7 billion on the first day, reflecting the event's strategic importance in advancing the aviation sector and fostering international collaborations.
For aviation enthusiasts and families eager to witness the marvels of the sky, the Skyview grandstand arena will offer a front-row seat to the spectacular daily flying displays, presenting a rare opportunity to meet pilots, astronauts, enjoy live entertainment, and explore the rich history of the industry.
Day One:
Dubai Airshow Opening: The event commenced with a royal tour led by HH Sheikh Ahmed Bin Saeed Al Maktoum.
Orders and Deals: Significant commercial aviation orders were announced by Emirates, FlyDubai, SunExpress, EgyptAir, and airBaltic. The focus on space was evident with the UAE Space Agency leading a pavilion.
Key Visitors and Engagements: HH Sheikh Khaled bin Mohamed bin Zayed Al Nahyan, Crown Prince of Abu Dhabi, visited various stands, engaging with exhibitors about technological advancements.
Expectations for the Event: Anticipation for more milestone deals and announcements in the coming days.
Day Two:
Continued Orders: EGYPTAIR ordered Airbus A350-900s, Oman Air ordered a Boeing 737-800 Boeing Converted Freighter, and Ethiopian Airlines committed to Boeing 787 Dreamliner and 737 MAX airplanes.
Agreements and Innovation: Airbus and Mubadala signed an agreement for Emirati engineering internships, and ANRA Technologies showcased its Vertiport Management System for VTOL aircraft.
Airport Traffic and Performance: Dubai Airports forecasted surpassing 2019 traffic, emphasizing continuous growth, operational efficiency, and customer satisfaction.
Day Three Expectations:
Events and Highlights: The Vista Space Challenge results, UAE astronauts' appearance, and insights from industry leaders at various conferences and sessions.
These releases encapsulate the event's progress, focusing on aviation orders, agreements, technological advancements, and the thriving traffic at Dubai Airports.
Visit the Website for more details and updates.