In the bustling landscape of global commerce, Hong Kong is gearing up to welcome an exciting array of international trade fairs, set to open doors for UAE companies seeking new horizons and expanded global reach.
As the Hong Kong Trade Development Council (HKTDC) unfurls its plans to host five distinct international trade fairs early next year, it signifies not just an exhibition of goods but a significant opportunity for businesses from the UAE and the broader region to delve into fresh markets and forge stronger connections within the vibrant business ecosystem of Hong Kong.
These fairs, spanning across sectors such as toys, baby products, stationery, diamonds, gems, and jewelry, serve as pivotal avenues for UAE-based traders and suppliers to explore uncharted territories and establish deeper ties with the dynamic commercial landscape of Hong Kong.
Highlighting the strategic importance of these upcoming events, the announcement made by HKTDC underscores the collaborative partnership between the UAE and Hong Kong. This collaboration emphasizes Hong Kong's pivotal role as a global trading hub, offering an extensive array of diverse products and services that attract industries and buyers from around the world.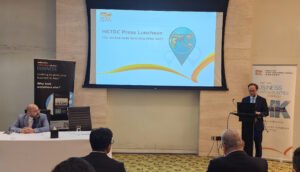 Underscoring the significance of the UAE within this trade narrative, recent statistics portray the country's prominence as the 11th largest trading partner for Hong Kong, with a trade value exceeding AED 47 billion. These forthcoming fairs aim to bolster this robust relationship by fostering greater engagement and cultivating mutually beneficial alliances.
Delving deeper into the specifics of these fairs, attendees can anticipate thematic zones tailored to each event, showcasing the innovation, diversity, and potential collaborations present at the Toys & Games Fair, Baby Products Fair, Stationery & School Supplies Fair, Diamond, Gem & Pearl Show, and International Jewellery Show. These exhibitions promise a myriad of opportunities for attendees to explore and engage with.
Mr. Daniel Lam, the Regional Director of HKTDC, extends a warm invitation to UAE-based companies, expressing anticipation for their participation and exploration of these burgeoning opportunities. His insights highlight the targeted approach of these fairs, attracting distributors, retailers, and buyers from the UAE and the wider region, facilitating meaningful networking, knowledge exchange, and industry growth.
As the dawn of 2024 approaches, these upcoming trade fairs in Hong Kong stand as pivotal platforms transcending geographical boundaries, offering a plethora of opportunities for UAE businesses to expand their horizons and solidify their foothold in global trade.
Visit the Website for more details.