Calling all food enthusiasts and wellness warriors! Get ready to embark on a mouthwatering journey with Curry Fit, the UAE's very own flavor-packed brand that has been redefining healthy living for the past two years. Brace yourselves for a culinary adventure where aromatic spices blend seamlessly with wholesome ingredients to create a symphony of taste and nutrition!
Curry Fit isn't your average meal plan provider. It's a tantalizing experience that caters to your individual needs, ensuring you stay on track with your wellness goals without compromising on taste. Say goodbye to bland and boring diets, and welcome a world of vibrant flavors inspired by the rich tapestry of Indian and Asian cuisine.
Imagine savoring succulent butter chicken, sizzling Galouti kebabs, and fragrant biryanis—all transformed into guilt-free indulgences that nourish your body and soul. From crispy rotis to an extensive selection of vegetarian delights, Curry Fit has meticulously curated a menu that tantalizes your taste buds while delivering the essential nutrients your body craves.
Vanessa Lena Crasta, the fiery mastermind and founder behind Curry Fit, exclaims, "We believe healthy eating should never be a dull affair. Our mission is to spice up your culinary journey by infusing traditional recipes with innovative techniques to make them healthier, tastier, and simply irresistible! Whether you're a fitness fanatic or a busy professional seeking a convenient yet wholesome meal plan, we've got you covered."
Picture this: a piping hot plate of flavorful curry arriving at your doorstep, ready to fuel your day with energy and vitality. With Curry Fit's commitment to excellence, every meal is prepared using the finest ingredients, ensuring you receive the perfect balance of taste and nourishment. It's like having your own personal chef who caters to your unique dietary requirements, leaving you feeling satisfied and revitalized.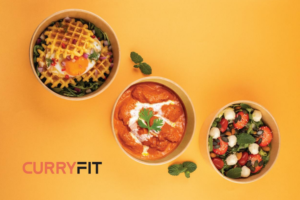 But it doesn't stop there! Curry Fit understands the fast-paced nature of modern life and offers convenient daily delivery to major cities across the UAE. No more scrambling to find time for meal prep or compromising your health due to a busy schedule. With Curry Fit, you can indulge in wholesome meals without any hassle, making your wellness journey a breeze.
Join the Curry Fit revolution and unlock a world of vibrant flavors, culinary delights, and holistic well-being. It's time to ditch the mundane and embrace a healthier lifestyle that tantalizes your taste buds. Say YES to Curry Fit and savor the journey to a happier, healthier you!
Hungry for more? Visit www.curryfit.com or dial +971 544771690 to explore Curry Fit's delectable offerings and embark on a flavor-filled adventure that will leave you craving for more.