The Punjabi film industry is all set to welcome a new comedy sensation with "Maujaan Hi Maujaan," slated for release on 20th October. In an exclusive interview, we sat down with Gippy Grewal, the producer of this much-anticipated comedy extravaganza, to dive into the heart of the movie and his journey from actor to producer.
"Maujaan Hi Maujaan" promises to be a side-splitting comedy with a unique twist. The storyline revolves around three brothers, each with a distinct disability—one can't see, one can't speak, and one can't hear. While it's sure to keep the audience in stitches, Grewal emphasized that the film also carries a targeted social message, adding depth to the comedy.
Gippy Grewal's journey from actor to producer was anything but planned. He candidly shared, "You wish to do many things in your life. So, acting and singing are my passion, and even directing. But as a producer, it's just business." His foray into production was a serendipitous turn of events, one he didn't anticipate. However, the films he produced turned out to be hits, and his production house became a major success.
He went on to reflect on the journey of actors in the industry, highlighting their unwavering commitment. "Many people in the industry, even if they get a small and limited role, feel grateful for it because it covers their basic expenses. But now, by God's grace, we have everything. So, even if we produce, act, or engage in any other work, we feel involved and interested in every chore."
When asked about the possibility of producing a Bollywood film in the future, Grewal expressed his openness to work with a wide range of actors. He emphasized that the choice of actors for each film depends on the specific requirements of the story and the roles they play. "There are many fantastic actors in Bollywood; it's a big list. So, I would like to work with anyone," he said.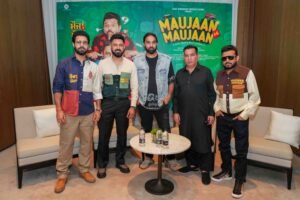 Grewal shared his admiration for Alia Bhatt's recent prominence in Bollywood and naturally, if Alia, then Ranbir Kapoor as well. In the Punjabi movie industry, he couldn't pick just one favorite actor, as there are numerous talents that have captured his heart.
With "Maujaan Hi Maujaan" on the horizon and a willingness to explore diverse roles in the industry, Gippy Grewal is not only a successful producer but also a versatile artist with a passion for entertainment. His journey from actor to producer reflects the unpredictability of showbiz, where talent and opportunity can lead to extraordinary success.
As we eagerly await the release of "Maujaan Hi Maujaan," it's clear that this comedy film, backed by Gippy Grewal and team's passion and vision, is poised to tickle our funny bones while delivering a meaningful message!
Movie Release Date: 20th October 2023.
Click here to watch the Trailer.