Monster Jam, the ultimate motorsports experience that left spectators in awe earlier this year, is making a triumphant return to the Etihad Arena in Yas Island, Abu Dhabi. After nearly a decade since its last appearance, Monster Jam is set to deliver another round of heart-pounding excitement on June 8 and 9, 2024.
The crowd at Etihad Arena witnessed jaw-dropping stunts and high-octane action during this year's event. Now, prepare for an encore as 5,500kg monster trucks rev their engines once more, ready to defy gravity with flips, jumps, and tricks that will leave you breathless.
Monster Jam 2024 promises an adrenaline-fueled weekend filled with motorsport mayhem. This year, the competition is divided into three thrilling divisions: Racing, two-wheeled skills, and freestyle. What makes this event truly unique is the interactive element. Fans can actively participate by voting live after each stunt to help crown the show's overall winner. Your voice counts in this electrifying showdown!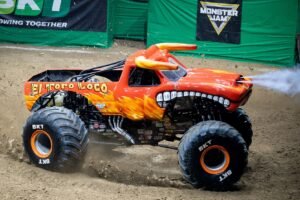 But that's not all. The event also features an awe-inspiring motocross performance in the air and a pre-show Pit Party where you can meet the drivers and get up close and personal with the massive trucks.
Nicolas Renna, Chief Operating Officer at Proactiv Entertainment, expressed his excitement about bringing Monster Jam back to Abu Dhabi. He said, "The experience is unmatched, and while the truck lineup for next year is yet to be announced, it's probably my favorite one yet, so be sure to watch this space!"
Magnus Danielsson, Vice President of Motorsports for Feld Entertainment Inc., owner of Monster Jam, added, "Monster Jam in Abu Dhabi is definitely a must-experience, and tickets will for sure be in high demand!"
This event is brought to you by Proactiv Entertainment and Feld Motor Sports, in partnership with the Etihad Arena. It's an opportunity for thrill-seekers to witness fearless stunts and collect points in the freestyle, skills, donut, and racing divisions.
Don't miss this chance to be part of history once again as Monster Jam returns to Abu Dhabi. Get ready for a weekend of roaring engines, gravity-defying stunts, and unforgettable family fun. Yas Island's Etihad Arena is committed to bringing world-class entertainment to residents and tourists, and Monster Jam is the ultimate proof of their dedication.
Tickets for Monster Jam 2024 are already available at etihadarena.ae and platinumlist.net. Don't miss your chance to witness the excitement up close. Secure your spot for a weekend of heart-racing action and unforgettable memories.
WHEN:
Saturday, June 8 –1.00pm | Pit Party – 10.00am
Saturday, June 8 –6.00pm
Sunday, June 9 –1.00 pm | Pit Party – 10.00am
WHERE: Etihad Arena | Yas Island, Abu Dhabi