Get ready for an evening of pure indulgence as SLS Dubai, renowned for its unique experiences and elevated offerings, presents "Taste of SLS." This highly anticipated dine-around event, which has captured the hearts of food enthusiasts around the globe, is set to take Dubai by storm. Prepare to be immersed in a world of delectable flavors, unforgettable entertainment, and glamorous ambiance as SLS Dubai pulls out all the stops to deliver an extraordinary culinary extravaganza.
Known for its star-studded affairs, SLS Dubai invites guests to don their finest attire and join the glitz and glamour of Taste of SLS. Taking place on Saturday, May 27th, from 7 p.m. until 12 a.m., this larger-than-life spectacle promises to be the hottest ticket in town, offering an unforgettable night that is anything but ordinary.
As guests step into the illuminated halls of SLS Dubai, the journey begins with a personalized welcome at EllaMia, where a special coffee cup drink sets the tone for the evening ahead. The adventure continues with a visit to Fi'lia, where the ultimate 'La Dolce Vita' fiesta awaits. Indulge in reimagined Italian classics with a modern twist, savor authentic pizzas, sip sophisticated bubblies, and be serenaded by the sounds of classic Italian tunes.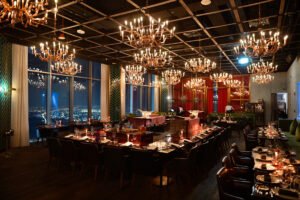 Prepare to be dazzled as the entertainment reaches new heights at S Bar on the 71st floor. Enjoy a selection of special nigiri and sushi served on decadent chandelier-style trays while being captivated by mesmerizing performers. And don't miss the edible Chiquita banana branch located in the Sky Lobby—a delicious and whimsical treat that adds an extra touch of magic to the experience.
The journey takes a Latin twist at Smoke & Mirrors, where the vibrant flavors of South America come to life. Explore bite-size treats inspired by the rich cultures and traditions of the region while dancing to the infectious rhythms of a three-piece Latin band. The celebration continues at Carna, where guests are treated to a sophisticated dining experience featuring the finest cuts of meat prepared to perfection. Accompanying the culinary delights is the legendary Lebanese-Armenian musician, composer, and pianist Guy Manoukian, whose captivating melodies blend traditional Arabic music with contemporary Western influences, creating an unforgettable musical experience.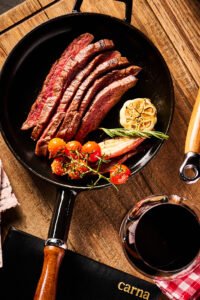 But the adventure doesn't stop there. From the Italian coast, guests are transported to the vibrant streets of Miami at Privilege for an unforgettable finale. Prepare to be amazed as fiery entertainment sets the stage ablaze while you revel in non-stop rooftop excitement and savor the breathtaking panoramic views of Dubai. Taste of SLS is an evening brunch like no other—a chance to explore a world of pleasure and be completely mesmerized by the culinary delights, entertainment, and luxurious atmosphere that SLS Dubai has carefully curated.
Tickets are now available for purchase, with various packages to choose from, including Soft, House, Premium, and VIP. The VIP package offers an exclusive experience with personalized amenities, including a steak knife from Carna, a cigar from Smoke & Mirrors, a one-night stay for two, and Afternoon Tea for two.
Prepare your taste buds, unleash your sense of adventure, and get ready to embark on a culinary journey that will leave you spellbound. Taste of SLS Dubai is where dreams come true, and memories are made to last a lifetime.
Date and Time: Saturday, May 27th, from 7 p.m. to 12 a.m.
Contact Details: +971 4 607 0737 ; Email: slsdining.dubai@slshotels.com
Visit the Website for more details.