Raise a glass to your closest confidante this International Friendship Day with an extraordinary treat at 25hours Hotel's Tandoor Tina. Join forces with Wild Idol and embark on an indulgent journey of friendship, fine cuisine, and delightful mocktails. From 26th to 30th July, Tandoor Tina offers an exclusive Afternoon Tea experience, accompanied by the exquisite and alcohol-free Wild Idol sparkling beverage. Get ready to celebrate the essence of friendship and savor a delectable menu crafted by Chef Trisha Singh Henault.
Tandoor Tina's Afternoon Tea menu is an artful fusion of flavors and creativity, presented immaculately in a Jaipur pink luggage box. Discover an array of unmissable delicacies, including the tantalizing Coronation Chicken Tart, the refreshing Mint Chutney Avocado with Sundried Tomato Sandwich, and the divine Confit Garlic Duck Mini Croissant. Prepare to be enchanted by exotic pastries such as the Date and Fennel Scones layered with strawberry-basil jam and clotted cream, the unique Tandoori Egg Tart, and an assortment of nuanced desserts like Banoffee, Chocolate Mango Bite, and Rose-Raspberry Choux.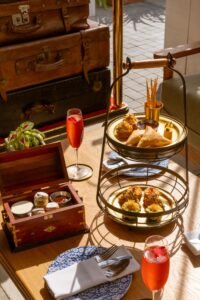 As you savor the culinary delights, sip on the refreshing and alcohol-free Wild Idol Rosé Hugo mocktail. Wild Idol, renowned for its naturally sparkling beverages, presents a premium and innovative alternative to traditional alcoholic sparkling wine or champagne. Vegan, halal-certified, and gluten-free, Wild Idol is setting new standards in the UAE's premium alcohol-free beverage market. Indulge in this delightful beverage while toasting to the spirit of friendship and cherishing the moments shared with your closest companion.
The enchanting experience of Afternoon Tea at Tandoor Tina is elevated by its walled garden and breathtaking city views, creating a stunning backdrop for your modern take on this classic tradition. Inspired by Chef Trisha's voyages through Northern India, Tandoor Tina is a visual feast, perfectly complemented by the exceptional Wild Idol beverage. As laughter and stories flow, immerse yourself in the joy of friendship and the captivating ambiance of Tandoor Tina.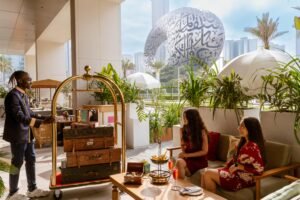 From Monday to Friday, from 3 pm to 6 pm, indulge in this Friendship Day celebration with Tandoor Tina's Afternoon Tea experience priced at AED 150. Treat yourself and your best friend to an unforgettable culinary adventure filled with delicious delights, captivating mocktails, and heartwarming memories.
This International Friendship Day, honor the bonds of camaraderie with a toast to your idol at 25hours Hotel's Tandoor Tina. Revel in the pleasures of friendship and fine dining, accompanied by the unrivaled Wild Idol Rosé Hugo mocktail. Immerse yourself in an enchanting Afternoon Tea experience, surrounded by the mesmerizing views of the city. Cherish your best friend, create lasting memories, and celebrate the joy of friendship in style. Book your table today for a remarkable celebration at Tandoor Tina – where friendship and culinary excellence intertwine for a truly memorable experience.
Contact Details: +971 04 210 2500
Address: 25hours Hotel One Central Dubai
Visit the Website for more details.