"Salties Beach Bar and Grill by Grenada Launches its First Indoor Beach Bar Showcasing Sustainability, Accessibility, and the World's Best Culture of Caribbean Entertainment"
Inside the country of Grenada pavilion extension, Salties Beach Bar and Grill will be opening its "Lift Doors" for the very first time exclusively to Expo 2020 visitors and staff from the First of October 2021.
The Indoor Beach Bar & Grill is located on the first floor at the Opportunity District – Caribbean Lounge OS06, in front of Visitor Centre 1 and will be open from 11 am to 2 am on Thursday and Friday and until midnight the rest of the week.
Salties is a Caribbean Beach Bar, made in Dubai by new generation Dubai expats with an international flair, featuring a Fresh Juice Bar and DJ music all day long for that notorious Grenada island vibe. We have kept our refreshment prices accessible with appetizers starting from 25 AED +++ and beers from 16 AED +++. Everyone there in Dubai, whether visiting or working in Expo, could appreciate the event and at the same time be able to enjoy a meal without spending too much.
This is also good for the staff who are living on-site as it provides them with a relaxed ambiance where they can listen and enjoy the music and socialize with their friends and colleagues without needing to go into town.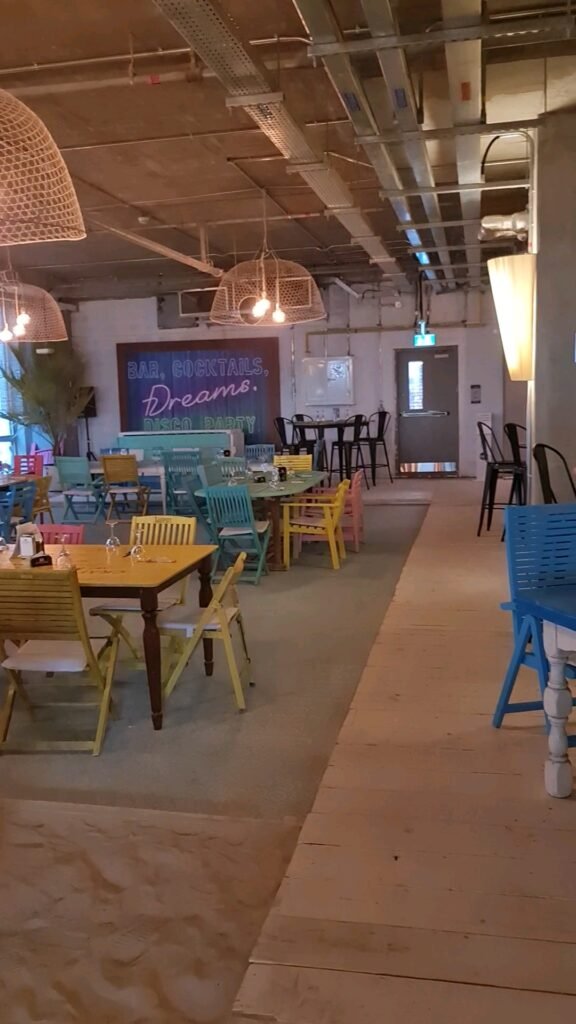 Co-Owner Pietro said, "We are inspired by Dubai's multicultural Caribbean cuisine, Arab, Greek, Italian, Oriental, and Mexican where you get many appetizers to share collectively at the table. Our portions are enough to taste and appreciate the food, but also enough to try different dishes".
"Starting from the idea that Dubai is on the beach, A symbol of freedom – Take your shoes off and feel the sand through your toes".
Pietro Scanavino has built together with a few friends and collaborators a place with sand, sunshine, and shisha. Two terraces with private booths overlook the world within Expo – there's no better place to relax and call home. Inside is a huge sandbox boasting colourful tables and chairs, sustainably sourced and given a fresh new look and even new names.
"We did everything very sustainable and then went to different places all over the UAE to source beautiful furniture which had been abandoned by other people in the past carrying its history. We have modified and transformed them through colours, writings, and repairs and given them a new life naming every piece of furniture with famous places and beaches of Grenada, like Saint George and Castle Hill
There are several little islands within the restaurant where that can bring pieces of the world together. Just like the country of Grenada, famously known as "The Spice Isle", consisting of the main island of Grenada and 8 satellite islands.
Be in a unique world!
"Salties have found many unique, charming, and different plates to revive, no plate is the same. It gives uniqueness to the food you are eating and each plate has its history, nothing is standard in Salties. Since music is the glue of life that brings people together, every day from 10 am, and feature live DJ sets and musical performances playing all kinds of music – from Reggaeton to Latin to Pop. It will be having different evenings paying a special tribute to every country on their National Day celebrations after 9 pm so that they can feel at home at Salties and citizens of that country can enjoy special discounts off the total bill.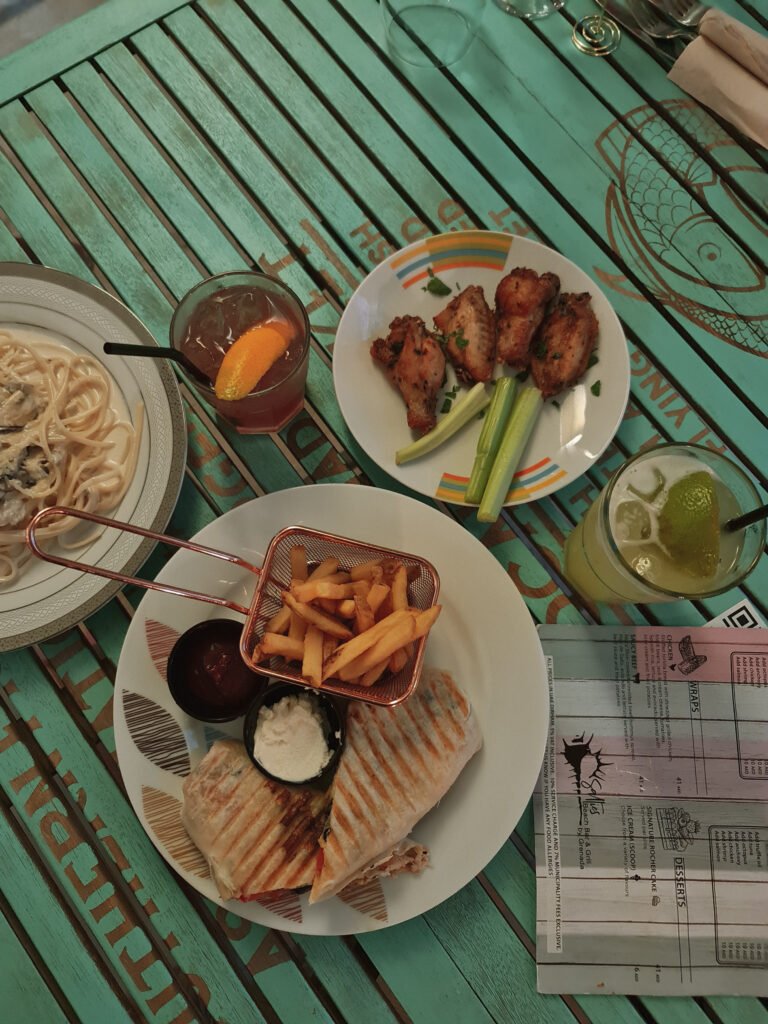 Salties aims to be the Dubai home away from home for people coming over for the 6-month duration of Expo 2020 whilst at the same time shining the spotlight on sustainability.
"We believe that the human being is born to enjoy simple things. We do enjoy the luxuries of life such as beautiful sights, restaurants, and hotels but we are very happy when we get home to our bed, and our living room, surrounded by the things we love. New things will always be interesting, but things from the past will always be comforting".
Our Experience –
We got lucky enough to visit Salties Beach Bar in Expo 2020. There we met Mr. Alexander who is the Co-Owner of Salties. He shared his vision and the ideas behind the place and we are so amazed by their future ideas. He is a humble person and had a great conversation indeed
The place is huge and spacious, it has both indoor and outdoor seating along with the Expo Site view. The indoor seating has a hard wooden floor area and along with this, an area with sand to get some beach vibes. Around the corner, they also have a Huge Bar area and Seating area for families.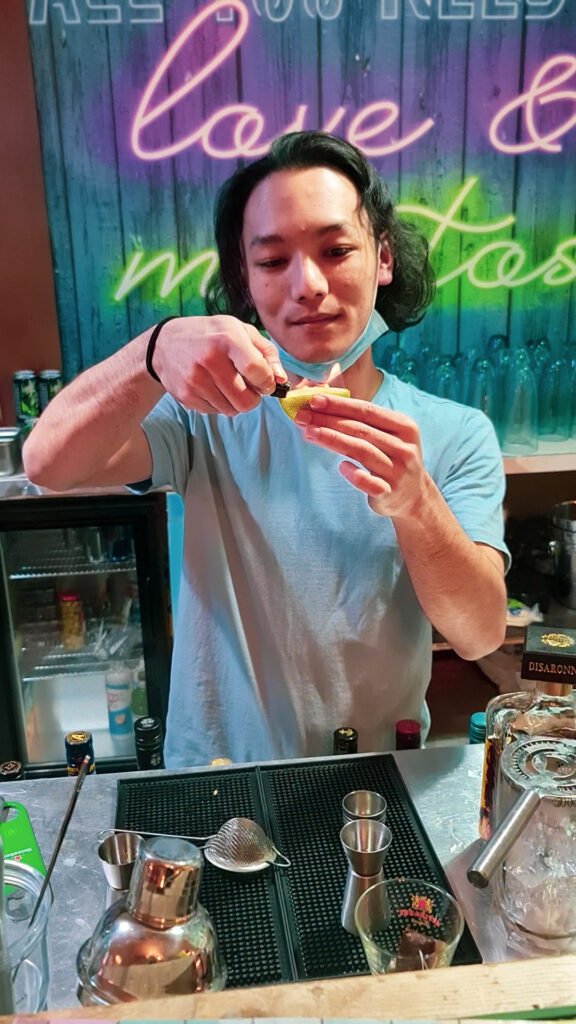 The staff was very polite and multi-talented as well! Everyone out there has some hidden talent that was connected to some kind of creative hobby! They always showed smiling faces and were entertaining too!
We started with two special drinks made by the talented Bartender. His name is Jade and we were asked a few questions about our favorite drinks and savour. According to that, our drinks were prepared for us and I must say, the drinks tasted really good!

"Our first drink was made with Rum and Pineapple Juice and the second one was made with Bourbon"
For starters, we tried their recommendations and so we started with "Three Mushroom Spaghetti". It was so nice and creamy. The mushrooms tasted perfect! Next, we tried the "Chicken Wings". These were so tender and moist. It was "Cooked to perfection". Next, we tried the "Chicken Wrap" which was served with Fries and Dips. The wrap was filled with beans, rice, and salsa. Overall everything served was delicious and up to the mark.
Salties USP's
The Fresh juice bar boasting 20+ fruit options for unique juice mixes some of them known by a few like Lulo, and Curuba coming from our friend partner Cooyuba, and cocktail options. Alecchino homemade gelato freshly made every day from an Italian master 'Gelatiere' made with a specialized machine by Fabbri from Emilia-Romagna, Italy – manufacturers of the best gelato machines in the world, having different flavours of the day featuring both sweet and savory creations by Fabbri a leader in gelato worldwide ".
One of the best coffees available in Dubai, made by Attibassi Winner of several quality coffee competitions specially for us and they have also received the latest model of the best coffee machine "La Spaziale"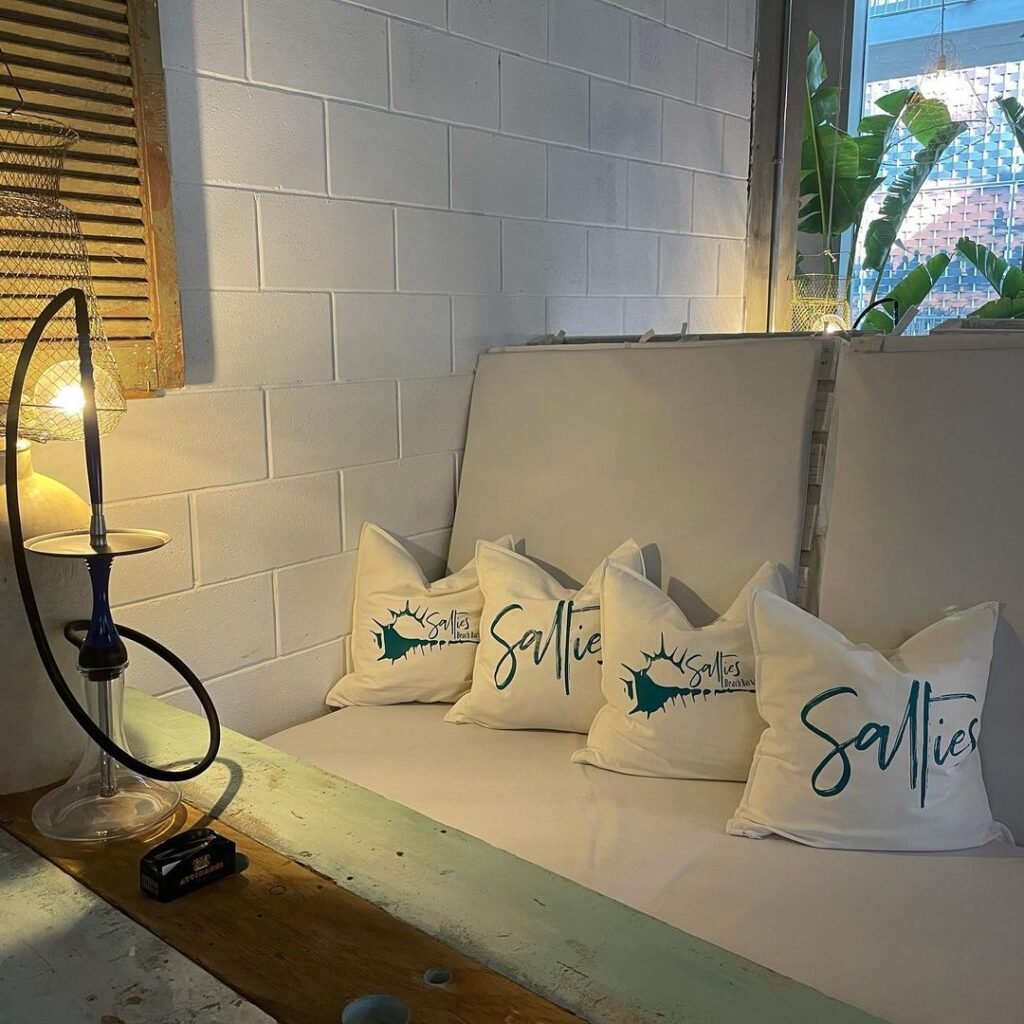 They will be also offering internationally famous Shisha for guests by Narghita to pay tribute to the local culture and the opportunity to expose the international clientele to a new level of life. "We are excited to be able to introduce them to the fun of enjoying Shisha which includes tranquillity and sociality."
Message in a Bottle: Guests who will purchase the "Wine Bottles" will be given the opportunity to write a message of positivity and humanity from Dubai Expo for the next generation to read.
Ladies' night is every Monday where women get 1 drink free
Location – Salties is directly opposite to the Visitor Center 1.

Social Links –
Instagram – @Saltiesbar
Website – Click Here