The renowned name and face from the Bollywood and Indian entertainment industry; Shreya Ghoshal was live in concert on May 7th at the Coco Cola Arena! Shreya Ghosal has such a melodious voice that her songs make you drown in the music and melody! The Bollywood singer is very versatile and has has sung songs in many different languages. Not only in Hindi movies but for South Indian movies too; she has given many hits such as Bairi Piya, Agar Tum Mil Jao, Yeh Ishq Hai, Teri Meri and many more!
The concert was held at Coco Cola Arena in the City Walk Area. She arrived with such high energy and looked so graceful! Starting off the night on a sizzling note, she sand some of her favorite Bollywood hits! The arena was super full and the crowd went absolutely crazy grooving to the catchy Bollywood beats! People from all around the world from different nations enjoyed her voice alike.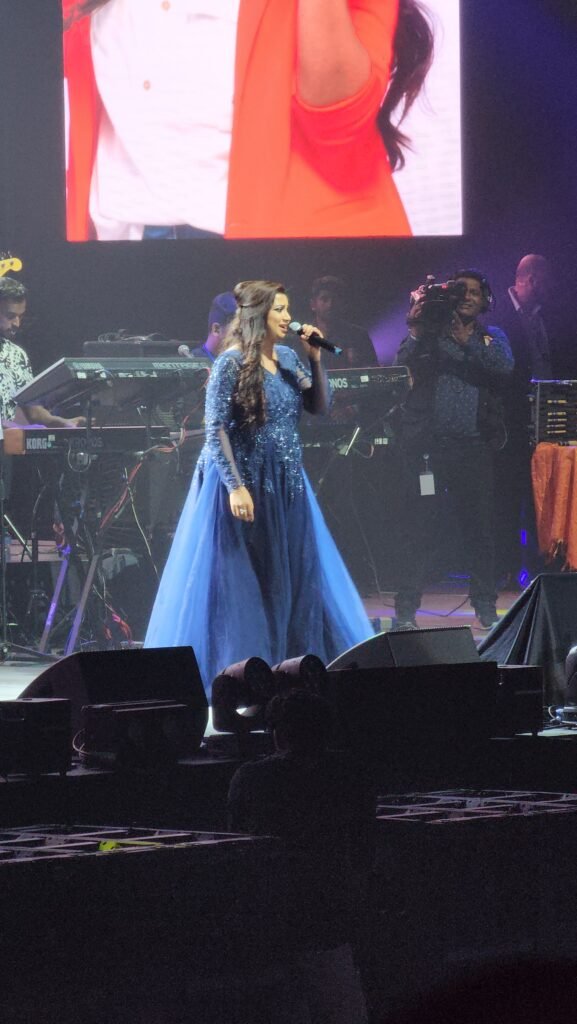 During the 3-hour long concert, Shreya was accompanied by a co-singer Nikunj. His voice mesmerizing too and their voices blended perfectly for their duets. One request by the audience; Shreya Ghoshal gladly sang one of her super-hit Malyalam songs!
The successful event was hosted by RJ Vikrant and RJ Nikki from Kadak FM! The concert was organised by Blu Blood with Kadak FM as the official partners. Other key sponsors included Khaleej times and Lovin Dubai!
Full Experience of the concert watch here – INSTAGRAM
Sponsors – BluBlood, LovinDubai, Khaleej Times!