In a delightful culinary return, Sumo Sushi & Bento, a name synonymous with outstanding Japanese fusion cuisine, has opened its latest outlet in the lively community of Motor City. This expansion represents a significant milestone in the brand's mission to share the art of sushi and Japanese flavors with an even wider audience.
Ms. Julianne Holt-Kailihiwa, the CEO of Sumo International Inc. LLC, is thrilled to welcome residents and visitors to this new location. She expresses, "At Sumo Sushi & Bento, our goal has always been to create a Japanese dining experience that's both fun and approachable, seamlessly blending tradition and innovation. We're excited to offer Motor City a taste of Japanese dining that's unpretentious, casual, and simply delicious."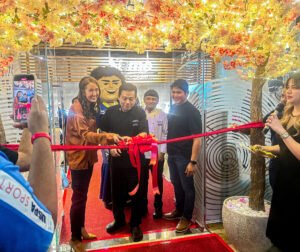 Sumo Sushi & Bento has built a loyal following by adhering to its core principles of quality, freshness, and culinary creativity. The menu is a masterpiece, featuring a diverse selection of sushi, sashimi, bento boxes, and more, all crafted with precision and using the finest ingredients.
The new Motor City outlet promises an ambiance that combines modern aesthetics with a touch of Japanese simplicity. The minimalist design spotlights the sushi chefs and provides a welcoming environment for diners to embark on their culinary journey.
Each dish at Sumo Sushi & Bento is a work of art, meticulously prepared to tantalize your taste buds. The Motor City outlet will continue this tradition, offering an extensive menu that includes signature sushi rolls, bento box combinations, fresh sashimi, and delectable savory hot dishes.
Whether you're a seasoned sushi lover or new to Japanese cuisine, Sumo Sushi & Bento is dedicated to delivering an unforgettable dining experience that harmoniously blends tradition and innovation. To celebrate the grand opening, guests and media were treated to live food carving, a sushi-making competition, and quiz competitions. A specially designed Itemai setup allowed guests to savor a selection of dishes.
For regular patrons, Sumo offers the convenience of its Mobile App, which lets you earn loyalty points. Collect Kenji Coins with every order and redeem them for FREE food and drinks (1 AED = 1 Kenji Coin), without any minimum spend requirement. Enjoy the rewards!
Instagram: @sumosushibento
Visit the Website for more details.