The struggle to make last-minute plans is real! This is why, we have your back. Here are some of the best deals and offers from around the UAE to make your Independence Day a lot more fun.
1. High Note Pool & Sky Lounge Brings You the Band "Legalized" for the 76th Indian & Pakistan's Independence Day
Celebrate the 76th Pakistan's & Indian Independence Celebrations right here in Dubai. High Note Pool & Sky Lounge brings you – "Legalized." This Independence Day, High Note will be officially introducing their very own Resident Band, all the way from India.
The band will be performing both on Sunday & Monday – the 14th & 15th of August, to mark the independence celebrations of Pakistan and India – 'Divided by Boundaries, United with Music'.
To commemorate the completion of the 75 years of Independence, High Note is offering a special set menu crafted by Chef Praveen. With his cuisine expertise, the set menu will feature Starters such as Basil Chicken Tikka, Guntur Chili Mutton Seekh and Kasundi Mahi Tikka OR choose a veg option such as Hara Bhara Kabab, Mathania Chilli Paneer Tikka with Velvety Soya Chaap Served with Tomato Comfit and Mouth-watering Tasting of Chutneys.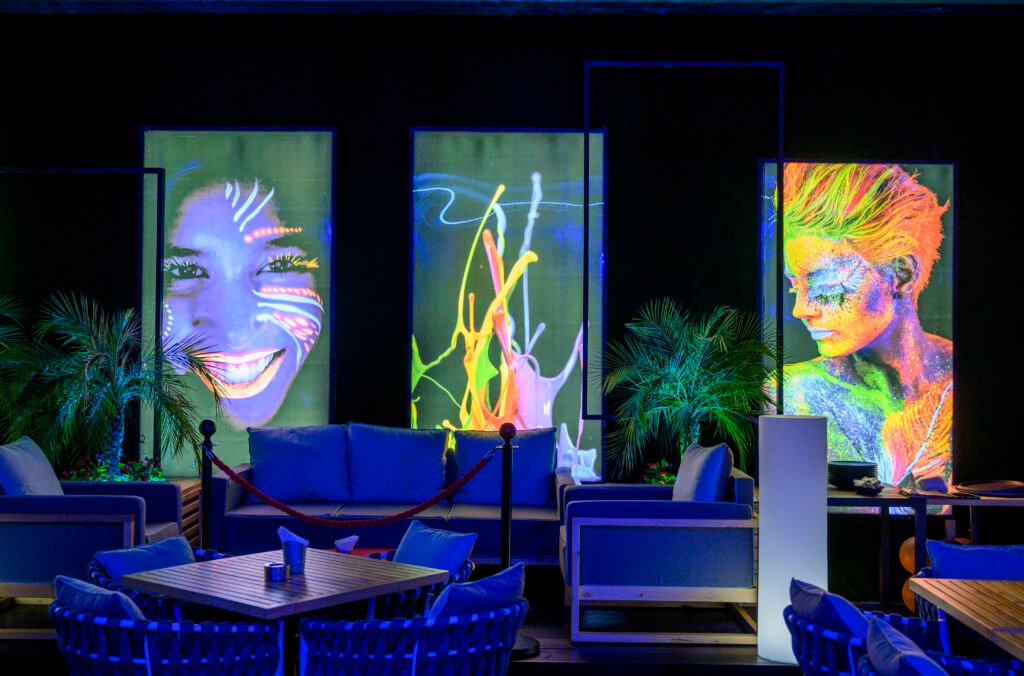 What: Independence Day
When: 14th and 15th August
Price: 75 AED
Address: Rooftop Level, Aloft Al Mina Hotel – Dubai – United Arab Emirates
Instagram: @highnotedxb
Contact: +971 58 591 8153
2. Celebrate India's Gastronomic Legacy this Independence Day at India Bistro outlets in UAE
To celebrate the special occasion of the 75th year of India's Independence Day, India Bistro brings to you a 3-course multicultural meal for AED 86 per person at both the outlets- Dubai and Sharjah from August 13th – 15th.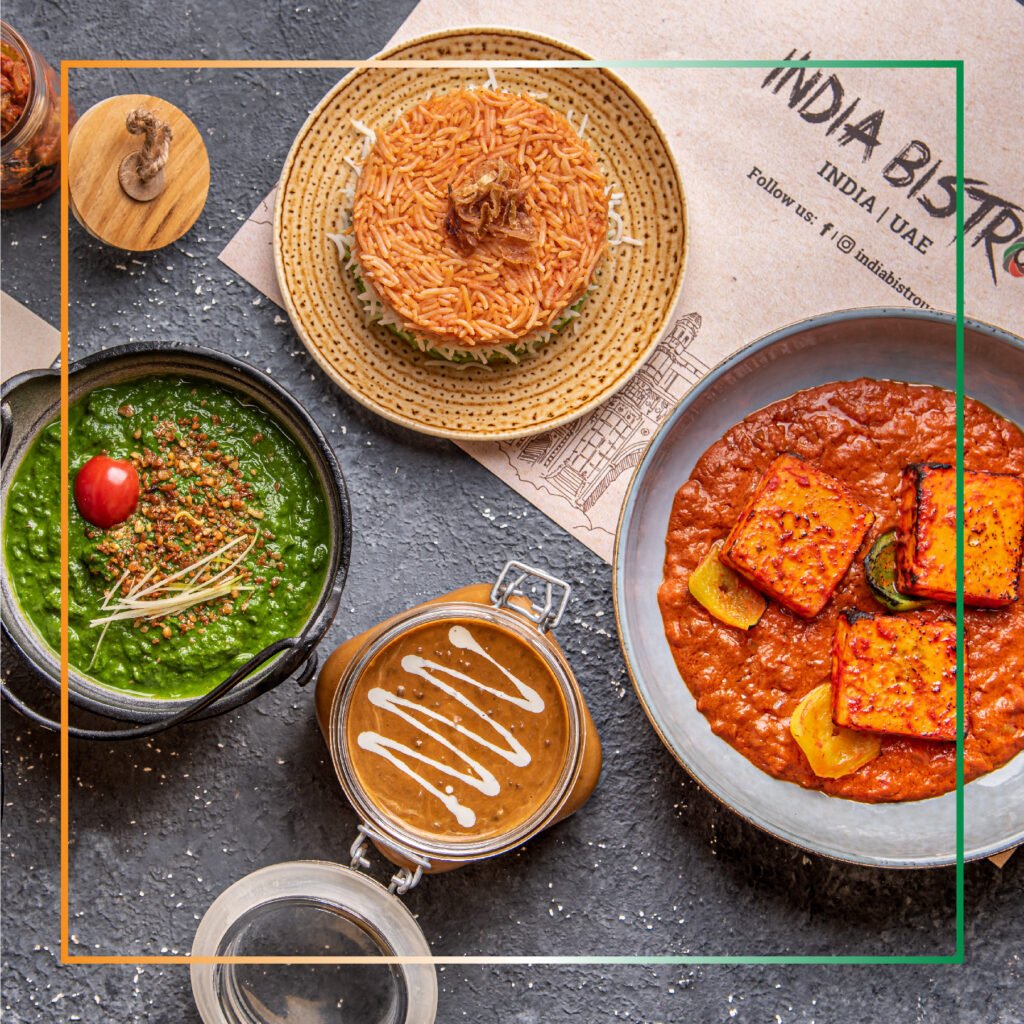 At India Bistro, all the diners can celebrate the spirit of patriotism with tricolor-themed cuisine.
Dubai World Trade Centre – 04 548 8336
Sharjah- 06 546 2228
Timings–
11 AM- 12 AM
https://www.indiabistro.co
Instagram: indiabistrouae
3. Celebrate the Indian Independence Day at Khyber
Khyber, the award-winning Indian restaurant at Dukes The Palm, a Royal Hideaway Hotel, is excited to celebrate the upcoming Indian Independence Day with a special three-course set menu from 14th to 15th of August 2022. The festive dining experience will take place every day on the mentioned dates from 5 pm to 11 pm and promises to take guests on a culinary journey through North India, introducing only fresh spices and authentic flavor combinations to the menu.
With themed music and decorations, the festive spirit will be felt throughout Khyber. Starting at AED 150 per person, guests can enjoy a three-course, vegetarian and non-vegetarian sharing-style menu of a lively selection of mouth-watering Indian cuisine. A great dining experience that features an intricately rich North Indian palette of flavors combined with stunning views of Dubai awaits at Khyber, Dukes the Palm, A Royal Hideaway Hotel this Indian Independence Day.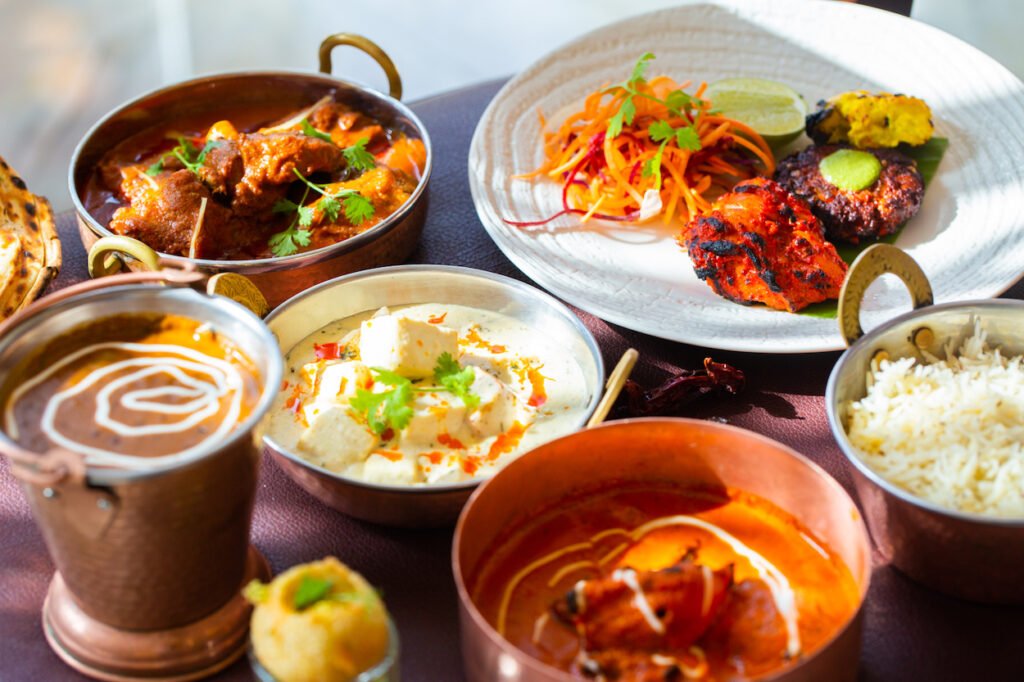 Fact Box
What: Indian Independence Day Celebration Offer
Where: Khyber, Dukes the Palm, A Royal Hideaway Hotel
When: 14th to 15th August 2022
Time: 5 pm-11 pm
Price:
AED 150 per person; including food only
AED 185 per person; including food and soft beverages
4. Tri-Colour Kebab Platter at Award winning Indian Restaurant, India Palace
This Independence day, head to the award winning Indian restaurant, India Palace to indulge in Tiranga Vegetarian Platter & Tiranga Non-Vegetarian Platter at its newly renovated outlet in JBR. The non-veg platter consists of 12 pieces of exotic Chicken Tikka, Pahadi Chicken Tikka & Malai Chicken Tikka. The veg platter has 12 pieces of luscious Paneer Tikka, Malai Paneer Tikka & Hara Bhara Tikka.
Veg Platter Priced at AED 49
Non – Veg Platter Priced at AED 75
Available all day on 15th August, 2022 at India Palace JBR outlet.
Instagram @Indiapalaceme
Jumeirah Beach Rd – Jumeirah Beach Residence – Dubai
Call: 04 437 0279
5. Try the Tri-colour Paneer Tikka and Biryani at Sagar Ratna
Homegrown authentic Rajasthani & Marwari cuisine restaurant, Sagar Ratna will serve its customers a special tricolour main course dish, Paneer Tikka & Biryani on the occasion of 76th Indian Independence Day. Tiranga Paneer Tikka is a Tri color Indian Cottage Cheese marinated with cream, spices and paste of mint leaves and is priced at AED 26 Tiranga Biryani is Minty Flavored Rice with Fried Onion, Veggies, steamed rice and rice stir fried in aromatic spices and herbs with fresh vegetables priced at AED 30.
Tri-colour dishes will be available at Sagar Ratna JLT & Oud Metha from 14th August to 16th August.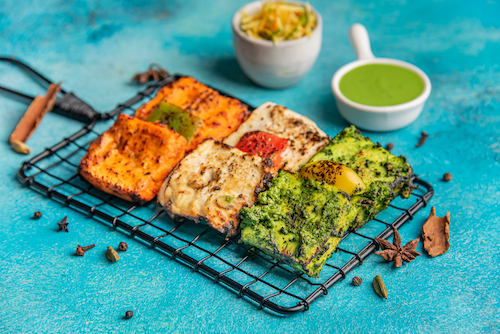 Indian Independence Day Special Dishes
Available all day on 14th-15th-16th-August
Cluster R, Lake Side, Jumeirah Lakes Towers – Dubai – UAE
-Oud Metha Building – Oud Metha Rd – Dubai – UAE
Instagram: @sagarratnadubai
Contact Details:
JLT: +971 4 453 3364
Oud Metha : +971 4 3795493
6. Indulge in Tri-colour Dosa at Yummy Dosa
Yummy Dosa, known for serving 100 plus varieties of Mumbai street style fusion Dosas, will be serving a very special tricolour dosa for its customers celebrating the occasion of 76th Indian Independence Day. The tricolour dosa will have three flavours of Pizza Dosa, cheese chili dosa and plain cheese dosa bringing out the beautiful colours of the Indian flag. A picture perfect dosa bursting with flavours. If you are celebrating the occasion, head to Yummy Dosa on 15th August and ask for Tiranga Dosa. Priced at AED 28. Will be available all day at Yummy Dosa Karama and Discovery Gardens outlet.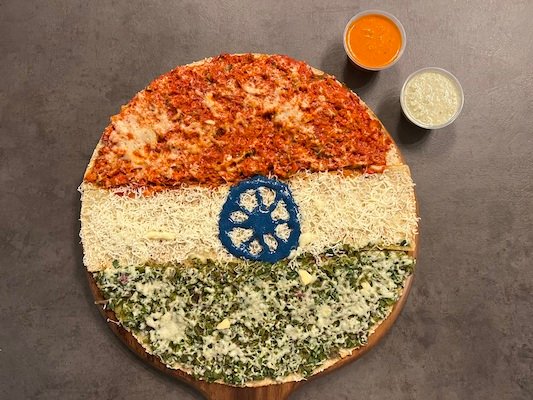 Quick Deets
What: Triciolor/ Tiranga Dosa
When: 15th August all day
Price: AED 28
Address:
83 Sheikh Khalifa Bin Zayed St – Dubai – United Arab Emirates
20 – Jebel Ali VillageDiscovery – The Gardens – Dubai – United Arab Emirates
Instagram: @yummydosa
Contact Details: 048767982
7. Complimentary Tirangs Shots at Dhaba Lane
This 76th Indian Independence Day, the home-grown Punjabi restaurant Dhaba Lane is celebrating the occasion by offering all its customers complimentary tri-color shots. Shots include Mint cooler for green, Pina Colada for white and Santa Banta for saffron colours. The complimentary shots will be served from 15th August to 20th August.
When at Dhaba Lane, indulge in authentic Punjabi delicacies such Galli Pani Puri Shots, Purani Dilli ki Papri Chaat, Dahi Ke Kebab, Murg Maska Marke, Taka Tak Paneer, Dal Makhan Marke, Zauk e Shahi, and Chenna Cheese Cake, or you can also opt for their limited period on-going Great Indian Street Food Festival menu which includes Raj Kachori, Aloo Shakarkandi Chaat, Kolkata Kathi rolls, Keema pav and more ..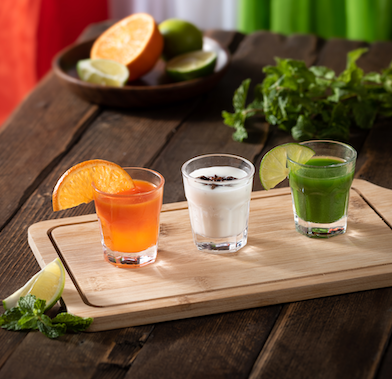 Quick Deets
What: Complimentary Tri-color shots
When:15th-20th August 2022
Address:
Dhaba Lane Karama: Opposite Spinney's. Behind Park Regis Kris Kin Hotel, Al Karama, Dubai
Dhaba Lane Garhoud : Ground Floor, Al Garhoud Views Building, Al Garhoud.
Instagram: @Dhabalane.dxb
Contact Details: 043583554
8. A Sizzling Set Menu for AED 76 at Yoko Sizzlers
The oldest (since 1986) sizzler joint, Yoko Sizzlers known for serving 60 plus varieties of sizzlers – has a cracking set menu deal for only AED 76 on the occasion of Indian Independence Day, 15th August. For AED 76, you can order any vegetarian sizzler on the menu, a drink and a brownie at Yoko Sizzlers. The word "sizzler" comes from the sizzle that one hears when, after heating the dish under a grill, the choice of in-house secret Yoko Sizzler sauces are poured on, which dribbles on the hot plate and heats up. Yoko Sizzlers is famous for its variety of in-house secret sauces which have been attracting foodies to the restaurant for over two decades now.
Opp. Burjuman Centre – 2 A St · Near BurJuman
Timings:
Weekdays: 12 noon-4pm 7pm-12pm
Weekends: 12noon -4pm 7pm-12.30noon
Contact Details :04 396 8668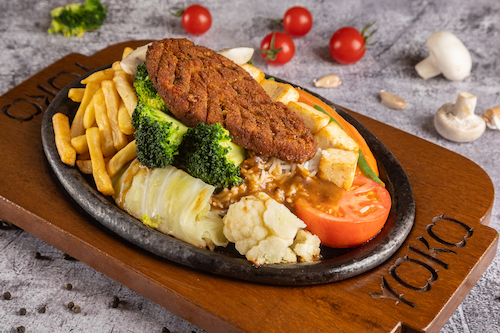 Al Nahda1(Qusais) Opp.NMC Hospital
Timings :
Weekdays: 12 noon-4pm 7pm-12pm
Weekends: 12noon -4pm 7pm-12.30noon
Contact Details :04 250 5504
Instagram : https://instagram.com/yokodubai?utm_medium=copy_link
9. Tri-Colour Thali at Khau Galli
This 76th Indian Independence day, visit the quirky Bollywood restaurant, Khau Galli to indulge in their tempting Tri-color thali consisting of two starters, three curries, rice, rotis and salad. The beautiful thali comes with Dal Makhni, Palak Paneer and Malai kofta in curries and paneer tikka and veg kebabs in starters. All of this for only AED 32. Tri-colour Thali will be available all day on 15th August at all three outlets of Khau Galli in Jumeirah Lakes Towers, Ibn Battuta Mall & Mall of the Emirates.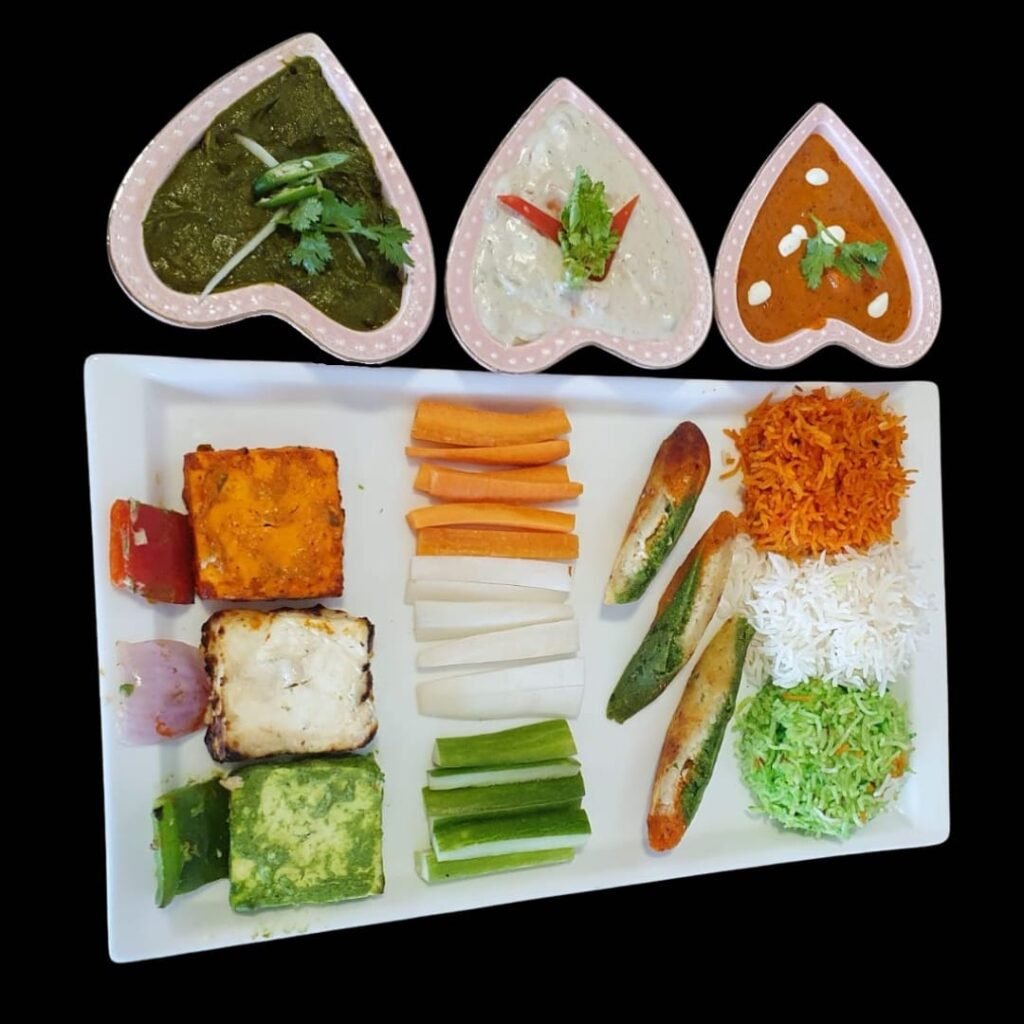 What: Tri-colour Thali
When: 15th AugustPrice: AED 32
Address: Fortune Executive – PL 2&3, lake level – Cluster T – Jumeirah Lakes Towers – Dubai Mall of Emirates & Ibn Battuta Mall Food Courts
Instagram: @khaugallidubai
Contact: +971 4 589 6525
10. Celebrate Pakistan Independence Day by Indulging in affordable Weekend Buffet at Premium Pakistani Restaurant, Barbecue Delights in JBR & IBN Battuta Mall
Barbecue Delights, a homegrown casual dining restaurant serving only the finest in Pakistani cuisine has arrived with their weekend Buffet. This Pakistan Independence Day, join Barbecue Delight for an elaborate feast with over 30 dishes.
The weekend buffet includes a variety of continental and south Asian favourites. Served from 12 noon onwards the brunch menu includes traditional Pakistani breakfast favorites like spicy chane/chole (chickpeas), soft halwa (dessert), delicious Nihari, Paya and hot Poori's.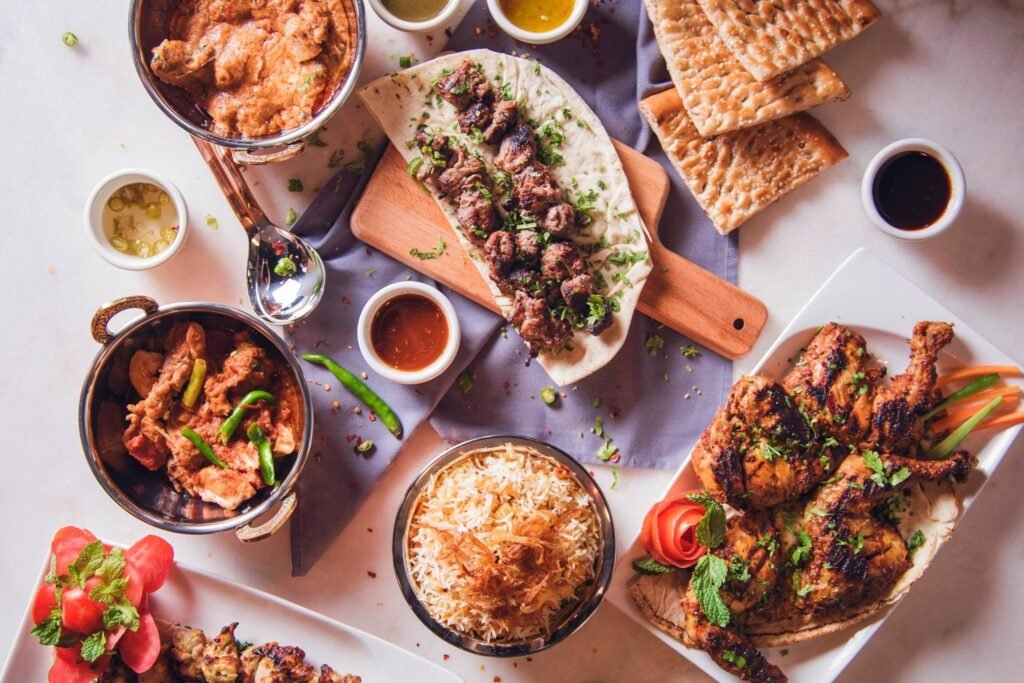 The mouthwatering Afternoon & Evening Weekend Buffet is available at both JBR for just AED 69 for Adults & AED 39 for Children and Ibn Battuta for AED 59 & AED 39 and offers a variety of continental and Pakistani favourites. The afternoon brunch is available between 12noon-3 pm and the Evening brunch starts at 6.30 pm onwards.
Barbecue Delight at JBR also offers 3-hour free parking at the JBR beach parking. So hop into your wagon and come along without worry and enjoy yourself with friends and family.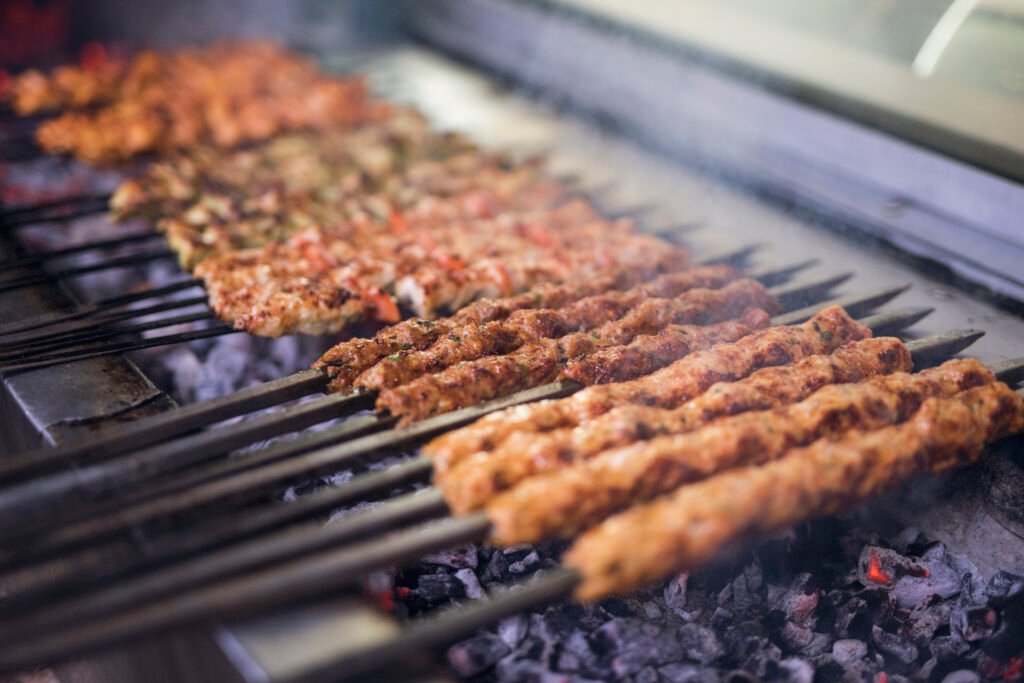 Quick Deets:
What: Weekend Buffet at Barbecue Delights
When: Saturday and Sunday
Price:
LUNCH – 12.30-3pm
AED 59+VAT at Ibn Battuta;
AED 69+VAT at JBR PAX
DINNER – 6.30pm onwards
AED 69+VAT and AED 49+VAT at Ibn Battuta;
AED 79+VAT and AED 49+VAT at JBR PAX
Address: Jumeirah Beach Road, Adjacent to Sofitel Hotel, JBR Walk – Dubai – United Arab Emirates Unit 03, China Court – Ibn Battuta Mall – Dubai – United Arab Emirates
11. Celebrate Independence Day with Little Lahore's Authentic Taste
Come to Little Lahore for a soulful culinary experience, where love for food meets excellence of service, and where passion to serve quality food is inextricably linked to the traditional Lahori warmth and hospitality! Little Lahore is there to serve you the way you like – whether you wish to dine-in, soak up the ambiance and enjoy the beautiful view of the JLT lake, order food for takeaway, or simply get the meal delivered to your doorstep.
A weekly and monthly Tiffin Service ('Khanay ka Dabba') is also available with both, vegetarian and non-vegetarian options, to take the hassle away to step out for lunch during office or convenience of dinner at home.
We are also happy to work on a one-on-one basis with you and customize our services, for example corporate caterings, staff meal plans, dinner parties, birthdays, charity meals for donation… you name it! Choose from a wide range of options from starters, main courses, BBQ & combo options.