Mankhool, Dubai – Spiceklub, Quattro Ristorante and Vego Cafe are all under one roof. It is run by the same family and brand. They promise to give you three different kinds of experience. All three places serve very different kinds of food. All the places are vegetarian, yet very unique in themselves!
 You can explore all these three different places under one roof. On entering Vego café is loacted, and behind the café we could see Quattro Ristorante. Both the restaurant are connected and next door connects you to the Spiceklub.
Let me give you a glimpse of these Three- in -one unique place.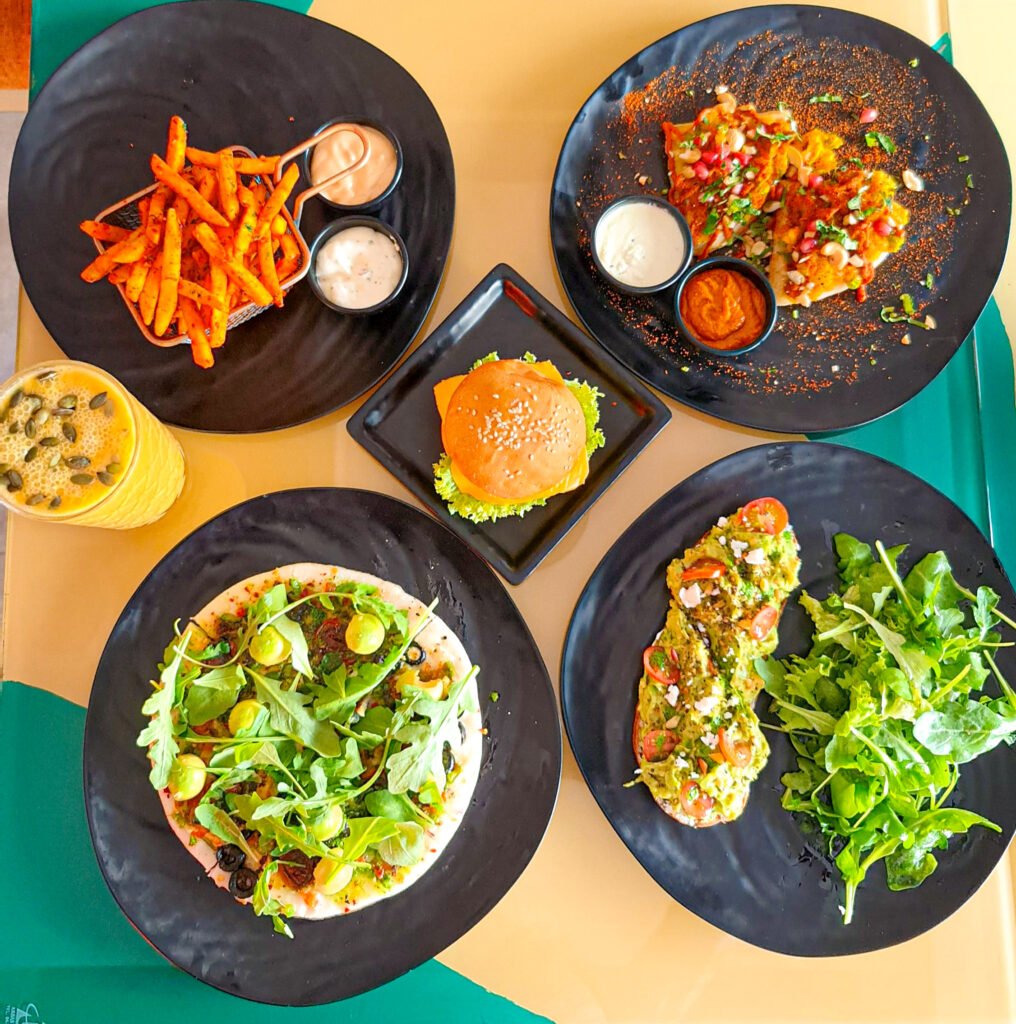 Vego Cafe

We started with Vego Cafe. This is a 100% vegetarian place having Vegan, GF, and Jain options for all kinds of vegetarian lovers. The amazing food and snacks options were displayed on the display fridge. They have a variety of Veg Options, Customizable Dishes, Weekend Brunch, and a wide option of Eggless Cakes and Pastries. They also have fresh small bites pie and croissants at a reasonable cost. Now, coming back to the ambiance they have a small seating area and along with that, you can enjoy some great board games there while having your food!


We started with a refreshing Drink called Vit C which contains Orange, Mango, Coconut milk, Pineapple, and Pumpkin seeds. It tasted reviving! Then we went for the food options; The Vego Uttapam was topped with greens avocado and pesto sauce. It was a new experience and the Uttapam remained crispy! Then we tried Dosa Waffle topped with spicy potato sabzi and peanuts. It was a divergent concept and the taste was quite satisfactory! Then we had the Crispy Potato Burger. The best part was the texture of the crispy patty! Next, we tried the Masala Fries, which turned out to be amazing and also got a place in my favorite list. It was served with two different dips! We also had the Avo Toast and it tasted so fresh and creamy!

The staff was good with their work and their service was very speedy. The place was clean and sanitized. Moreover, all the tables have a separate sanitizer too!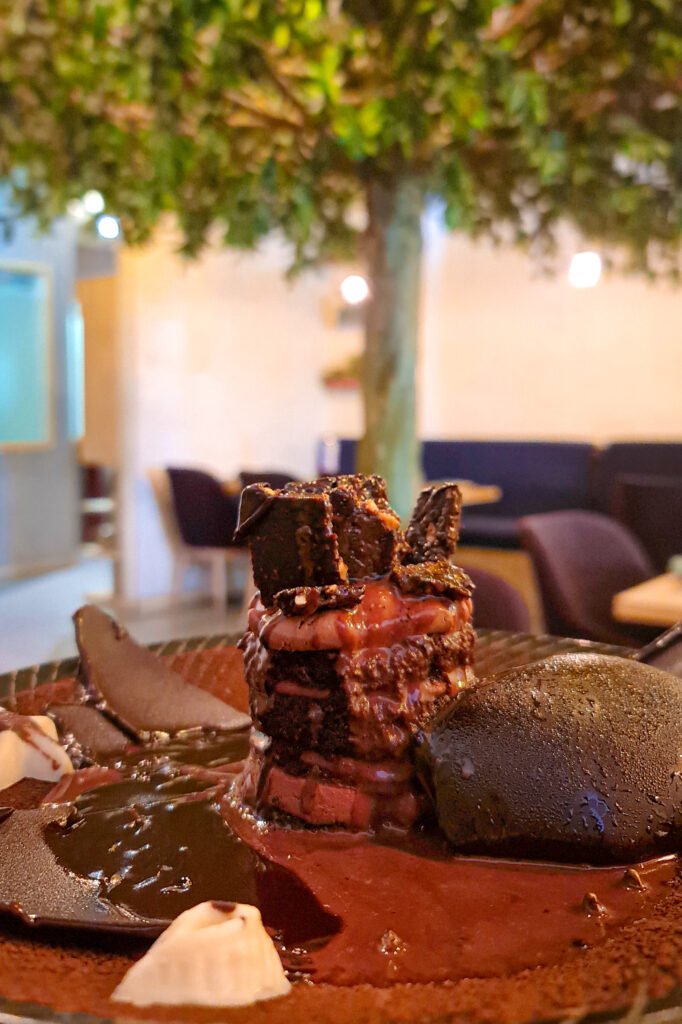 Quattro Ristorante

This place offers Pure Vegetarian Italian and Mexican cuisine and a wide range of desserts that will leave you dribbling. Quattro has a very homely ambiance and they are committed to delivering to its customers an authentic fine dining experience. They serve a few molecular Gastronomical dishes and are affordable as well.

Just like Vego Café, Quattro is also having a small seating area which is quite comfortable. Their amazing menu having a variety of vegan, gluten-free, and Jain options featuring Taquitos, Stuffed Mushrooms, Bruschetta, Upside-Down Margherita Pizza, Hazelnut Mousse with caramelized popcorn, etc. The food was tasty, freshly prepared, and presented brilliantly maintaining an ideal balance of ingredients and texture.

We started with Taquitos which is a Tortilla cone filled with Tomato Salsa, Beans Jalapenos and Avo Ice Cream which was very crunchy. Then for mains, we tried the Gnocchi Paprika, Gnocchi is a small dumpling made from potato, semolina, or flour, usually served with a sauce (garlic sauce). It was appetizing and tasted so fresh. Next, we tried their Primavera Pizza. The base of the pizza was thin and crispy and the taste was up to the mark, also we tried the Jalapeno Rice with Grilled Cottage Cheese and Pepper Sauce. The sauce and the cottage cheese make a perfect combination and tasted so good with the rice. For desserts, we tried the best Chocolate Saturn. It was a chocolate dome filled with chocolate mousse and served on frozen sand and mango chocolate jello. Hot chocolate sauce is further poured on the dome to reveal the goodness in it.

It was a surprise and worth the experience! Overall we had a great experience!
3. Spiceklub – Experience a gastronomical route to food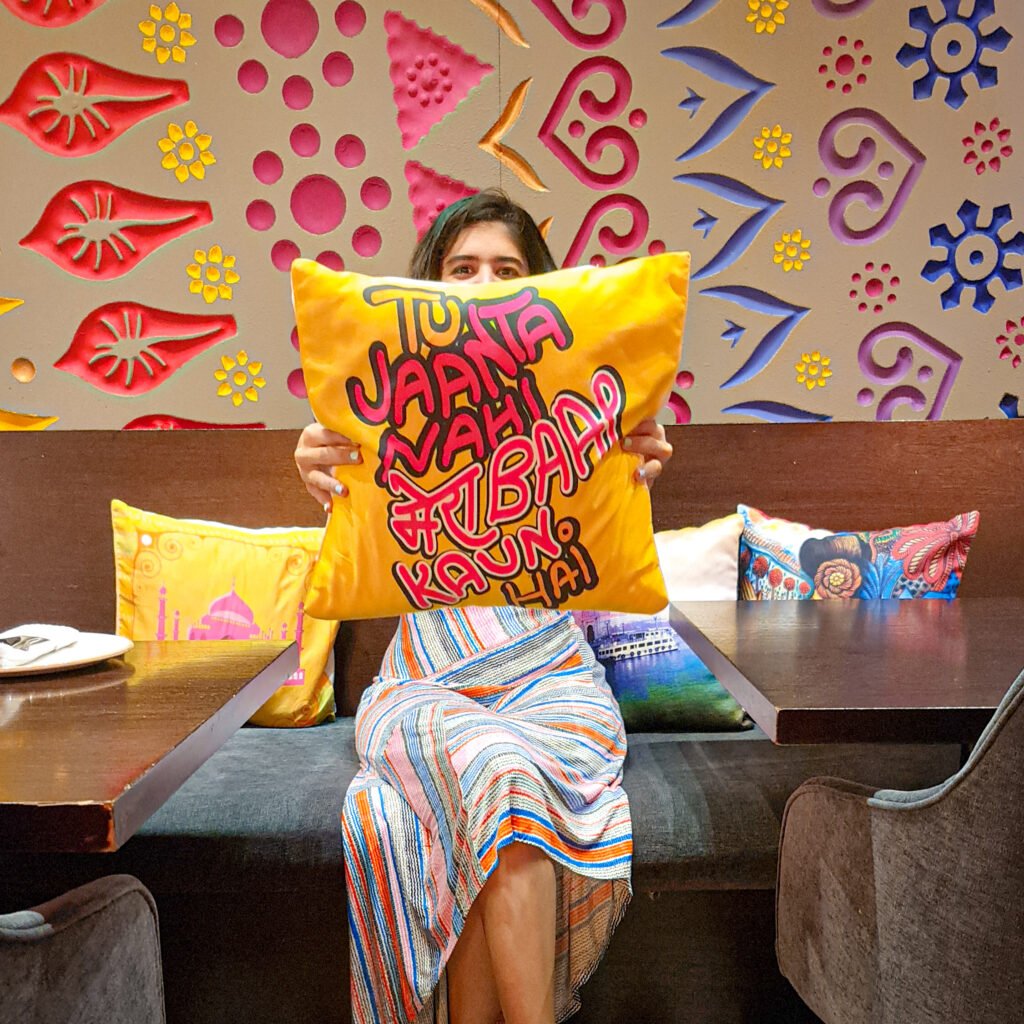 This place is inspired by Molecular Gastronomy serving North Indian Cuisine with a twist. The seating is spacious and along with that, the Decor is very colorful and quirky! Spiceklub is transforming the food landscape, giving them familiar tastes and exciting new twists with clever molecular fusions, to make them Instagram-story worthy.

"Mango on the rocks" -SpiceKlub has added a molecular twist to a normal Mango juice and the drink becomes appealing to the eyes and a devour to the palates. Using molecular techniques they freeze the mango pulp into bite-sized bits making it a 'chewable drink'. This drink was very refreshing, and it oozed the fresh taste and aroma of the luscious Alphonso Mango.
Next, we tried the Malai Broccoli served on the Hot tandoor plate. It was marinated well with Malai and Cheese and charred to perfection. Then we tried the Papadi Chaat with Dahi Spears. It was a melt-in-the-mouth bite taste with the perfect balance of spice and sweetness. Also, India's most popular Indian street food "Pani-Puri" was reconstructed in Molecular style. It was not too spicy and not too sweet. Though I wished it could have been spicier!
For Mains, we tried Chole Kulcha. It was a tiny bite of Kulche filled with Chole in between and topped with coriander foam!
We ended with the Spiceklub's special Falooda. The Kulfi came with an assortment of toppings including Caramel Sauce, Rabdi, Chocolate Sauce, Blueberry, and Rose Caviar.  Their multiple flavor options resulted in a mix and mash of the toppings so that we could enjoy different flavors – all in one dish. The best combination was Rabdi with Kulfi and the second-best has to be Salted Caramel.

All in all, it was a very unique and fulfilling experience and we did not miss any other flavors.

Thanks to Mr. Terrance and Mr. Kashyap for their great service and for recommending us the best dishes to try from!