Brace yourself, food enthusiasts! The legendary New York City-style deli, Wise Guys, is set to revolutionize your dining experience with its debut on Deliveroo. Starting from June 12th, you can now relish their mouthwatering sandwiches from the comfort of your own home or office, with just a tap on your smartphone.
Transporting you to the streets of the Big Apple, Wise Guys captures the essence of old-school, no-frills delis. Since its grand launch last month, this DIFC hotspot has been the talk of the town, charming taste buds with their extraordinary flavors and fresh ingredients, all nestled between slices of freshly baked bread.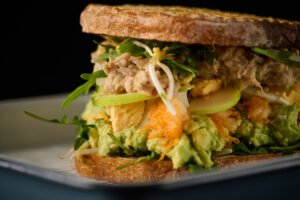 Prepare to tantalize your senses with a diverse menu of perfectly curated sandwiches. Feast your eyes on the likes of Capo Dei Capi, Wise Guys, and La Favolosa, each crafted with care and bursting with authentic flavors. But Wise Guys doesn't stop at sandwiches alone; health-conscious foodies can savor a selection of hearty salads, providing a filling yet nutritious option. With options such as the Kale-Romaine Caesar, G.O.A.T., and Vito's salads, you can now relish guilt-free goodness without compromising on taste.
Whether you're seeking a satisfying breakfast, a delightful lunch, or a flavorsome dinner, Wise Guys has got you covered. No matter the time or occasion, their tempting offerings will ensure your cravings are quelled, leaving you satiated and smiling.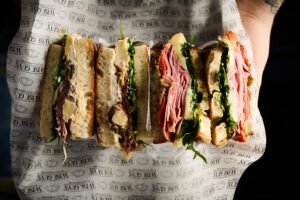 Thanks to the convenience of Deliveroo, these heavenly sandwiches are now just a few taps away. Gone are the days of rushing to the deli during a busy workday or enduring long queues. Wise Guys brings the authentic taste of New York to your doorstep, allowing you to indulge in the ultimate gastronomic experience without leaving your sanctuary.
So, mark your calendars, fellow food lovers! Starting June 12th, let Wise Guys and Deliveroo transport you on a flavorful journey through the streets of New York. Get ready to savor the unmistakable taste of NYC-style sandwiches, prepared with love and delivered with convenience. It's time to elevate your dining experience to a whole new level, all from the comfort of your own home.
Contact Details: 00971 52 686 3801
Instagram: @wiseguysdubai