As the festive cheer envelops the air and winter approaches, Femi9 unveils an enchanting curated collection designed to elevate your style quotient. Embrace the holiday spirit with an array of handpicked dresses, tops, and essential winter wear, meticulously crafted for any occasion. Whether you're gearing up for a soirée or a relaxed night out, Femi9, the renowned Saudi retail brand, invites you to make a resounding style statement this holiday season.
1. Bold & Beautiful Elegance:
Step into the limelight with dresses that epitomize the essence of the season. Femi9's festive collection exudes elegance and sophistication, boasting vibrant solids and playful prints adorned with exquisite details. Whether it's a chic gown or a captivating ensemble, these dresses promise to elevate your charm and grace, making every occasion unforgettable.
2. Vibrant Hues to Illuminate Winter:
Ditch the traditional winter palette and embrace lively hues that defy the season's norms. Femi9's collection bursts forth with rich reds, deep blues, cheerful yellows, and more, proving that winter fashion can be as vivid and lively as any other season. Embrace the vibrancy and add a splash of color to your winter wardrobe.
3. Ruffles for a Playful Flourish:
Discover the joy of movement with ruffle-inspired pieces. Let your winter style dance with delicate ruffles enhancing your feminine allure. From whimsical necklines to cascading hemlines, these playful accents redefine sophistication, adding a dash of boldness and festivity to your wardrobe.
4. Embrace Comfort with Cosy Chic:
Fuse chic elegance with comfort effortlessly. Don't let the gloomy weather stifle your style! Experiment with striking colors, unique prints, and cozy silhouettes that guarantee a standout presence this season. Wrap yourself in plush fabrics like faux fur and soft wool blends, ensuring warmth without compromising on style.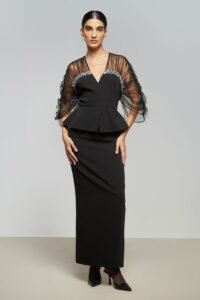 5. Intriguing Mesh Accents:
Unveil a hint of allure with mesmerizing mesh-detailed clothing. Engage in the intricate beauty of designs that lend a touch of mystique and sophistication to your festive ensembles. Whether it's a sultry overlay or a subtle accent, these mesh-infused pieces effortlessly elevate your style, adding an edge to your festive fashion game.
Visit the Website for more details.